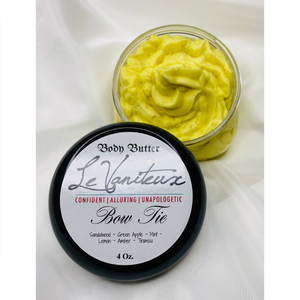 Bow Tie – Vigorously Virile 
Dominate with this multifaceted scent of freshness that is filled with aromas of green apple, lemon, and amber. Unravel the remarkable strength that lies in the sensual fragrances of sandalwood and tiramisu. Hypnotize the most enchanting matron with the timeless scent of mint, which is sure to evoke a smile at first glance. Bow Tie is the epitome of the sophisticated gentleman that yields a strong, passionate and provocative demeanor.  
 Enjoy this ultra-hydrating, heavy moisturizing body butter made with shea and cocoa butter for long-lasting moisture and freshness. Enriched with a variety of vitamins, this body butter absorbs quickly and is complementary to an active lifestyle. Perfect for after shower use, this skin repairing butter represents a remarkable sense of attraction and sets the tone for impeccable taste and hygiene. 
Made with natural ingredients 

Quick absorption 

Non-greasy

Safe for everyday use

2 OZ, 4 OZ, 8 OZ